Nancy Thompson Memorial Library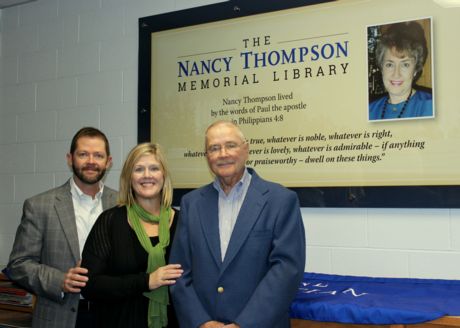 ACS changed the library's name to the Nancy Thompson Memorial Library in October of 2015. Nancy Thompson loved her tenure at Abilene Christian School, where she taught and served as principal on the elementary side. Because of Nancy Thompson and her family, the library has become a focal point at our school, a place to take pride in, a place to use, a place to learn and, most of all, a place to fall in love with books.
Renaming the library in Nancy Thompson's name put the finishing touches on a number of renovations the school made to its learning space, including new furniture, carpet, paint, wall murals, counter tops, a reading corner and new technology, including computers.
A quote from a former student says it best...
"Mrs . Thompson was my 5th grade teacher and my favorite of all my teachers. My parents put me in ACS for 5th grade. She brought me home with her 2 days a week and tutored me all year . For free, because she had a sweet heart! She was the greatest teacher, she played with us at recess, taught us, and she loved each of us and showed us GOD through her living example."