There are so many ways to support Abilene Christian School, and each and every person and each and every donation make a significant difference for our school and in the lives of our students. We appreciate all of you and are blessed by every gift.
Prayer
Prayer is powerful and we would love your prayer support. This can be done individually or in community with school groups such Power in Panther Parents. Power in Panther Parents is a group that meets every Monday morning in our Board Room to pray for our school, students, and faculty and staff. Please pray for our school and school leaders, for our families and students, and for guidance and blessings in everything we do.
Volunteer
As a parent, guardian, or grandparent, volunteering is a wonderful way to be involved with our school community, meet other families, shape the lives of our students, and support the overall mission of the school. The time and energy given by volunteers is a priceless contribution to ACS.
Financial Donations
Below are the many different opportunities for financial support:
General Unrestricted Gift
Tuition Fund
Endowed Scholarship Fund
Memorials/Honorariums
Athletics - Specify the sport or the project
Fine Arts - Specify the fine art
Capital Improvements
Corporate Matching
Matching gift programs are charitable giving programs set up by corporations in which the company matches donations made by employees to eligible nonprofit organizations. Don't hesitate to ask your Human Resources Department if they participate in matching gift programs.
---
Class and Program Fundraisers
Middle and high school classes have individual class fundraisers during the school year. Extra-curricular programs, such as Cheerleading, Band, Choir, etc. also have individual fundraisers for their particular program needs.
School Fundraising Events
ACS has three school-wide fundraising events during the school year.
Magazine Sale
In the Fall, ACS conducts a magazine subscription fundraiser to raise money for programs and activities that benefit our students. Magazine subscription renewals may also be purchased regardless of the expiration date. A tax-deductible donation may also be made to the event in lieu of magazine purchases.
Jog-a-Thon / Bowl-a-Thon
In the Spring, the Elementary School participates in the Jog-a-Thon and the Middle and High School participate in the Bowl-a-Thon. Parents, grandparents, friends, and neighbors can support an ACS student or make a tax-deductible donation in support of their jog or bowl activity. This is a fun time for the parents and grandparents to walk or jog with their student during the event held in the gymnasium.
Annual Community Auction
Each year, ACS holds its Annual Community Auction. Over 500 people in the community attend this event with over 250 items available for bidding. This is a wonderful time for people who are connected to ACS either through business, family, or friends to come together and enjoy a time of fellowship and fun. This event is also a wonderful opportunity for businesses or individuals to sponsor the event, donate an item or service, and volunteer for the event.
The 2018 Auction, Blue to the MAX will take place on Thursday, March 22nd at the Abilene Civic Center. For more information on table sponsorships, individual ticket sales, or auction item donations, please contact Angela McGlothlin at: angela.mcglothlin@acs.acu.edu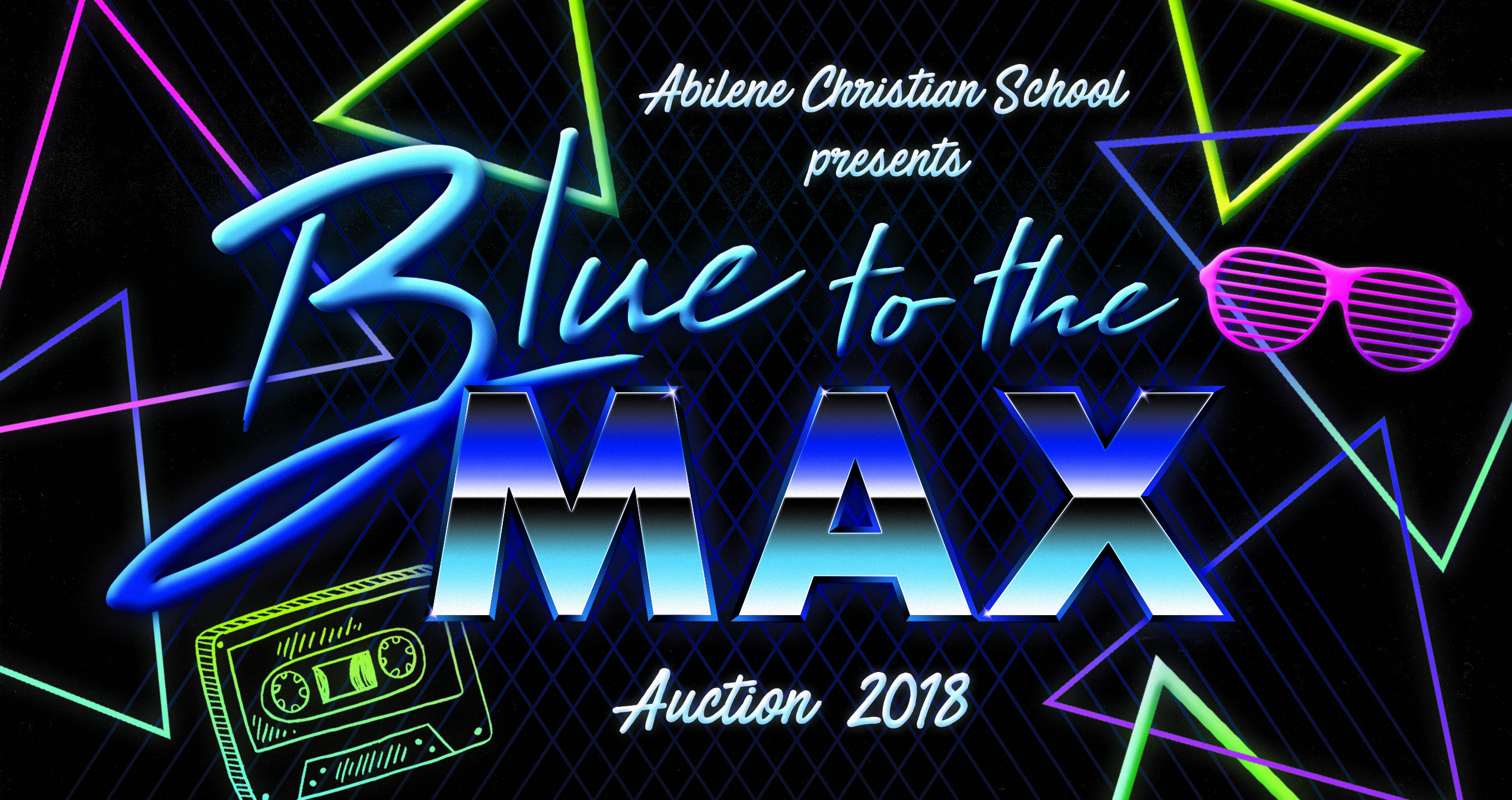 ---
Previous Auction Themes