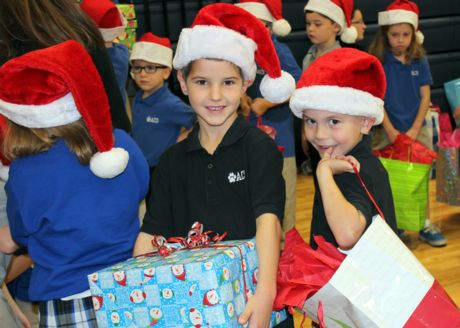 At Abilene Christian School, we believe that we are called to live out the Gospel. We strive to be Jesus' hands and feet on earth. Our yearly service projects include the following:
Christian Service Center
Each year our second grade class does a 100th Day of School clothing drive for the Christian Service Center. After all the items are collected and counted the second grade class delivers the items and helps unload them.
ECI School Wide Service Project
ACS partners with Betty Hardwick's Early Childhood Intervention Program which allows students of all ages to collect and deliver gifts that will bless families right before the Christmas holidays begin.
Meals on Wheels
For over 28 years the 5th Grade Students at Abilene Christian School have been delivering meals to individuals on the same Meals on Wheels route.
Mission Thanksgiving
Our first grade class and senior class partner together each year for the Mission Thanksgiving service project. This is a school-wide opportunity to donate clothes and canned goods to others in need. Those goods are then personally delivered by the school to Arrow Ford's Mission Thanksgiving event supporting Love and Care Ministries.
Pennies for Patients
Each year we do an all school drive that benefits Leukemia Research.
Touch a Life
Each year a secondary class coordinates a fundraiser to support and sponsor Francis, a young man who was formerly a trafficked child from Ghana, Africa. Francis was rescued out of the fishing industry on Lake Volta in June 2010. The money raised will provide Francis with everything he needs to live a healthy, happy life - food, clothing, tuition, books, school uniforms, housing and medical care.
In addition to those listed above ACS has also participated in Heifer International, a sock drive for incarcerated men, local pumpkin patch loading for DRI of Abilene.
I Peter 4:10 - "Each of you should use whatever gift you have received to serve others, as faithful stewards of God's grace in it's various forms."